Introduction to the Center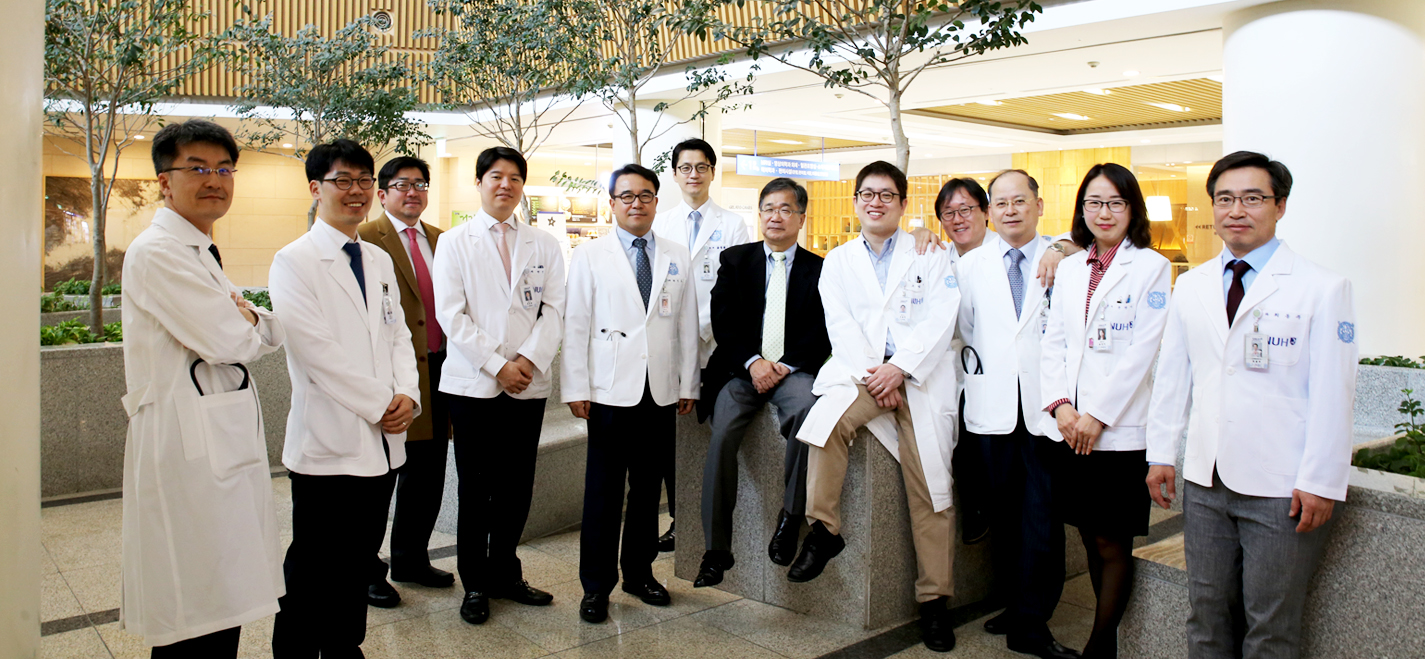 In Cardiovascular Center, the Department of Adult and Pediatric Cardiology, Thoracic and Cardiovascular Surgery, General Surgery, Geriatrics, and Cardiac Rehabilitation Medicine collaborate to provide state-of-the-art cardiac care to help thousands of patients with complex diseases of the heart, blood vessels, and circulatory system, ranging from hypertension to heart transplantation. Our team offers every patient a comprehensive and seamless care.

Cardiovascular Center opened in May 2003, and in its 10-year history, it has developed into one of the largest and most advanced cardiovascular centers in South Korea, with more than 26,000 patients undergoing coronary angiography and more than 2,400 patients receiving open-heart surgery since its opening. The center has five state-of-the-art cath-labs, one hybrid operating room, and 25 CCU and sub-CCU beds available for daily patient care. In 2013, Cardiovascular Center was appointed as the "Regional Cardio-Cerebrovascular Center" in Gyeongi-gi Province by the Ministry of Health of South Korea.

Our mission is to pursue a collaborative, integrated, and multidisciplinary approach so as to achieve the highest level of excellence in patient care, research, and education.
24-Hour / 365-Day Access for Emergency Patients
Cardiovascular Center is ready for emergency patients 24 hours a day, 365 days a year. Concerning acute myocardial infarction, most patients receive revascularization within 60 minutes after their arrival in the Emergency Department because our cardiologists and cardiac surgeons are available 24 hours/365 days for any medical emergency.
Specialized Care for the Elderly
The decline in the physiological reserve in the organs makes the elderly susceptible to the development of diseases and to complications from mild problems. Cardiovascular Center operates a ward specialized for the elderly, focusing on the unique needs of the elderly patients. House staffs from the Department of Geriatric Medicine, Cardiology, Neurology, Neuropsychiatry, Rehabilitation Medicine, Urology, Pharmacy, Nutrition, and Social Welfare gather to provide comprehensive care for this vulnerable patient group.
Treatments & Services
Geriatric Medicine: hypertension, various heart diseases in the elderly

Arrhythmia: artificial pacemaker, implantable defibrillator, cardiac resynchronization therapy (CRT), radio frequency catheter ablation (RFCA)

Intervention: coronary artery disease, carotid and cerebrovascular disease, peripheral-artery disease, device closure of congenital heart disease, thoracic endovascular aortic repair (TEVAR), endovascular aneurysm repair (EVAR), renal denervation for resistant hypertension

Imaging : echocardiography (3D, strain lab), stress/exercise echocardiography, coronary CT angiography, cardiac CT and MR

Heart Failure: cardiac critical care (extracorporal membrane oxygenation, IABP), heart transplantation

Pediatrics: congenital heart disease

Cardiovascular Surgery: coronary artery bypass graft (CABG), valvular heart disease, disease of aorta (aortic dissection, aneurysms), vascular heart diseases, cardiac tumors