Introduction to the Department
The Ophthalmology Department is in charge of diseases afflicting the eye. Categorizable into five subdivisions ― anterior (cataract, cornea, and external diseases), retina, glaucoma, neuro-ophthalmology and pediatric ophthalmology (strabismus), and oculoplasty ― the department is devoted to the diagnosis and management of complex medical and surgical eye diseases.

Fourteen full-time faculty members are currently engaged in such specialties, responsible for the clinical and surgical management of eye diseases, research in the field of ophthalmology, and education.

The department's active and outstanding performance is well represented by the exponential increase in the number of operations conducted by it, which reached 4,225 cases in 2012. The outpatient clinic cases have quintupled since its opening in 2003, from 15,158 patients to 78,928 in 2012. The department aims to become a preeminent research institute for advanced medicine and technology, particularly for treating eye diseases and preventing blindness. With this overall goal, the department's strength lies in its enthusiasm for state-of-the-art research, excellence in education, and dedication to patient support.

As an example of the Ophthalmology Department's commitment to research, the department developed blood biomarkers for the diagnosis of age-related macular degeneration through a proteomic research which was the first time in the world. Through epidemiologic study, it also revealed a nationwide incidence of retinal diseases including retinal vein occlusion first time. Regarding cutting-edge treatment, the department is performing intraarterial thrombolysis treatment for retinal artery occlusion in collaboration with radiology and neurology, and SNUBH is the only hospital to perform this treatment in Korea.

The department's surgical achievements are widely recognized, as are the field-leading technique and experience of its faculty members. (Fig. 1) The newest cataract surgery method developed by the department has led to a rapid increase in the number of cataract surgeries performed, and together with the high level of satisfaction among its patients, has led the hospital to be recognized as the best cataract surgical center in the country. The department is famous for the number of strabismus surgery cases which is outstandingly large in the world. The department was also the first center in the country to introduce 23-gauge suture-less vitrectomy, performing such operations actively since the end of 2005, recording 500 cases of non-sewing vitrectomy for the first time in Korea by December 2007, and thus helping reduce the operating time as well as the post-operation inconvenience and complications of the patients.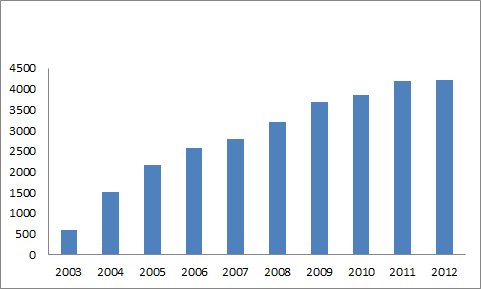 Figure 1. The annual number of surgeries which were performed in the department of
Ophthalmology of Seoul National University Bundang Hospital.